Ankle Fractures Treatment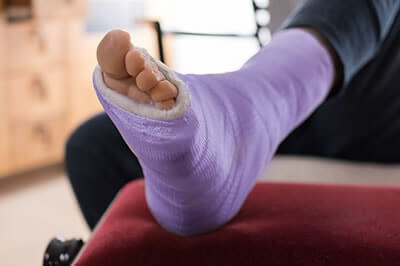 Ankle fractures are very common, especially in the winter as more slips and falls occur. A fracture is a break in the bone from acute injury. In the ankle, they often occur at the lateral malleolus, which is the bone away from the midline of the body. They can also occur in the medial malleolus, which is the bone in the ankle that is closest to the midline of the body. An X-ray is necessary to properly diagnose the fracture. If a fracture is non-displaced or mildly displaced, usually non-surgical treatment in offloading at least 6 weeks is necessary in the form of a splint, CAM boot or cast. If the fracture is displaced, surgery is necessary, and will consist of an ORIF (open reduction internal fixation) with plates and screws to fix the fracture in anatomical position.
Recently, Dr. Badri and Dr. Zhang have also been fixing fractures that are mildly displaced with a fibular nail, which decreases the amount of the time the patient needs to non-weight bearing, traditionally a 6 week timeframe. After the fibular nail, the patient can bear weight as tolerated in a CAM boot.
Dr. Badri and Dr. Zhang have specialized trauma training in the foot and ankle that affords them the best outcomes in these types of injuries.