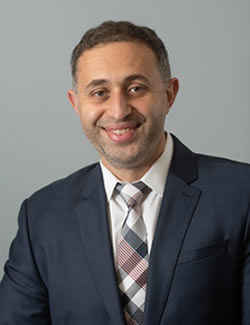 Dr. Homam Badri
Dr. Homam Badri an experienced foot and ankle surgeon at One Oak Medical, is honored to offer his services in New Jersey and the NYC metro area.
Dr. Badri is a Harvard trained reconstructive foot and ankle surgeon who specializes in flatfoot reconstruction, minimally invasive bunion surgery, revision surgery, arthroscopy, deformity correction, and sports medicine related to the foot and ankle. His mission is to provide his patients with personalized, high-quality care by combining innovative techniques with proven methods to meet each individual's needs.
Dr. Badri has extensive training in foot and ankle surgical procedures and revision surgery. He has published and presented on foot and ankle topics. Dr. Badri has lectured internationally on adult flatfoot reconstruction and has a special interest in minimally invasive flatfoot reconstruction and deformity correction. He's a member of the American College of Foot and Ankle Surgeons as well as the American Podiatric Medical Association.
Dr. Badri, innovator, creator of the 3D minimally invasive surgery (MIS) bunionectomy®, a system and technique designed to properly correct the bunion deformity in the correct 3 Dimensional anatomical way. Patients come from all over the country to have surgery with Dr. Badri at his New Jersey locations.
Dr. Badri was among the first of his colleagues to complete a total ankle replacement in the state of Massachusetts. He is a current leader in the minimally invasive bunion surgery trend in New Jersey. As a person who suffers from flatfoot pain himself, Dr. Badri understands the importance of conservative lifestyle treatments to improve quality of life. From the initial consultation to the end of treatment Dr. Badri works with his patients to achieve their objectives and beyond. There's more to Dr. Homam Badri than surgical expertise and compassionate care, he likes to create wellness solutions that can prevent surgery and the recurrence of deformities. He is consistently praised by his patients for going above and beyond to ensure their care and satisfaction.
Dr. Badri is board certified by the American Board of Podiatric Surgery and has hospital affiliations with St Joseph's University Medical Center, Palisades Medical Center, Hackensack University Medical Center, Hudson Regional Hospital, and Valley Health System in Ridgewood. He received his undergraduate education at Montclair State University in New Jersey and attended medical school at the prestigous Temple University School of Podiatric Medicine in Philadelphia. After graduating, he completed an internship and residency in podiatric medicine and surgery at the Mount Auburn Hospital, an affiliate of the renowned Harvard Medical School in Cambridge, Massachusetts.
When Dr. Badri isn't caring for his patients, he enjoys spending time with his family, serving as an educator for residents and his colleagues, and pursuing innovation in foot and ankle surgery. Dr. Badri is currently accepting new patients at One Oak Medical's New Jersey locations.
Offices Served: Wayne, Paramus, Clifton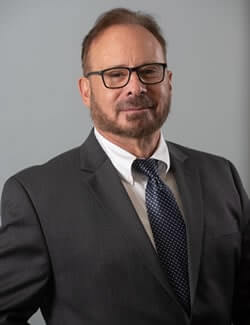 Dr. Frank Colabella
Dr. Frank Colabella is well known to his patients as a caring and compassionate practitioner. With over 25 years of experience he was practicing in Manhattan New York and has since moved on to his current position as practicing podiatrist with One Oak Medical. He did his residency training at Los Angeles County hospital and received a masters degree in podiatric education from the University of Southern California. He regularly treats foot/ankle disorders such as ankle sprains, plantar fasciitis, heel spurs, bunions, hammertoes and sports related injuries both conservatively and surgically. Dr. Colabella also specializes in orthotics, management of ingrown toenails, and other foot related issues. He places emphasis on preventative medicine in order to minimize the need for invasive procedures. Should intervention be required Dr. Colabella is trained in the latest in minimally invasive techniques.
He is able to care for all general podiatric needs and has been in practice since 1989. His detailed explanation is a hallmark of his approach to the thorough care of a patients problem, and the proper course of action needed for treatment.
Offices Served: Montclair, Randolf, Edison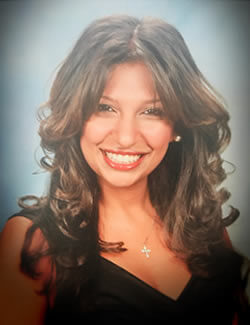 Dr. Dina Ibrahim
Dr. Dina Ibrahim, a skilled foot and ankle physician, completed her training at the New York College of Podiatric medicine. She is well versed in the treatment of routine and complex foot and ankle conditions. This includes but is not limited to foot injuries, warts, arthritis, bunions, toenail problems, abscess formation, gout, fractures, and infections. Dr. Ibrahim is well versed in the non operative management of these conditions and when necessary is skilled in the surgical treatment as well.
Dr. Ibrahim regularly attends various seminars and lectures to keep herself abreast with the latest advancements. She exhibits her passion for podiatry in the care and precision she takes with her patients. Dr. Ibrahim dedicates her time catering to the needs of patients and making sure to provide the highest quality of care possible. Patients trust her skills and expertise, knowing their health lies in safe hands. With sheer commitment and dedication, she strives to bring comfort and well-being into the lives of her patients.
Offices Served: Edison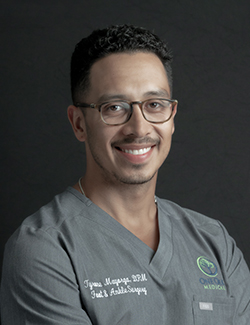 Dr. Tyrone A. Mayorga
Tyrone A. Mayorga, DPM, is a board qualified foot and ankle surgeon at One Oak Medical. He received his doctoral degree from the New York College of Podiatric Medicine followed by an intensive three-year surgical residency in foot and ankle reconstruction at the Hackensack University Hospital system at Palisades Medical Center.
Dr. Mayorga specializes in sports and exercise related foot and ankle injuries. He emphasizes minimally invasive approaches and has extensive surgical training in arthroscopic and endoscopic techniques. Dr. Mayorga believes that establishing a trusting relationship between surgeon and patient is paramount to a successful outcome. He achieves this by providing a comprehensive treatment plan and offering clear communication throughout the care process.