Plantar Fasciitis Treatment in Wayne, Paramus, Clifton, Montclair, Randolph and Edison, NJ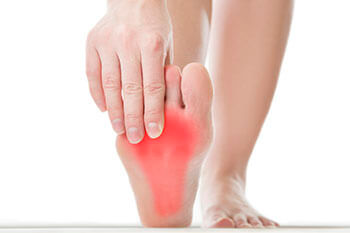 Plantar fasciitis is inflammation of the plantar fascia, which attaches from the metatarsal heads to the heel bone. It often manifests as heel pain with post static dyskinesia, which means pain first step in the morning. It may exist acutely for less than 4 weeks, or more chronically, for months or years at a time. Just as there are many causes – including a high or low arch foot type, overuse, to name a few – there are many treatments.
The mainstay of treatment is stretching the plantar fascia and Achilles tendon, which can be achieved through night splints, physical therapy, or home physical therapy. Custom orthotics are also extremely helpful, as are cortisone injections, and it is also helpful to remember RICE: rest, ice, compression, elevation. Anti-inflammatories are part of the arsenal to reduce inflammation.
No patient should have to live with plantar fasciitis, which responds very well to treatment.